Silver Birch Games invite you to join our maiden voyage into the wonderful world of board games – as we celebrate our company launch with a free print-and-play version of our very first game 'Deckchairs on the Titanic', designed by Tom Holness.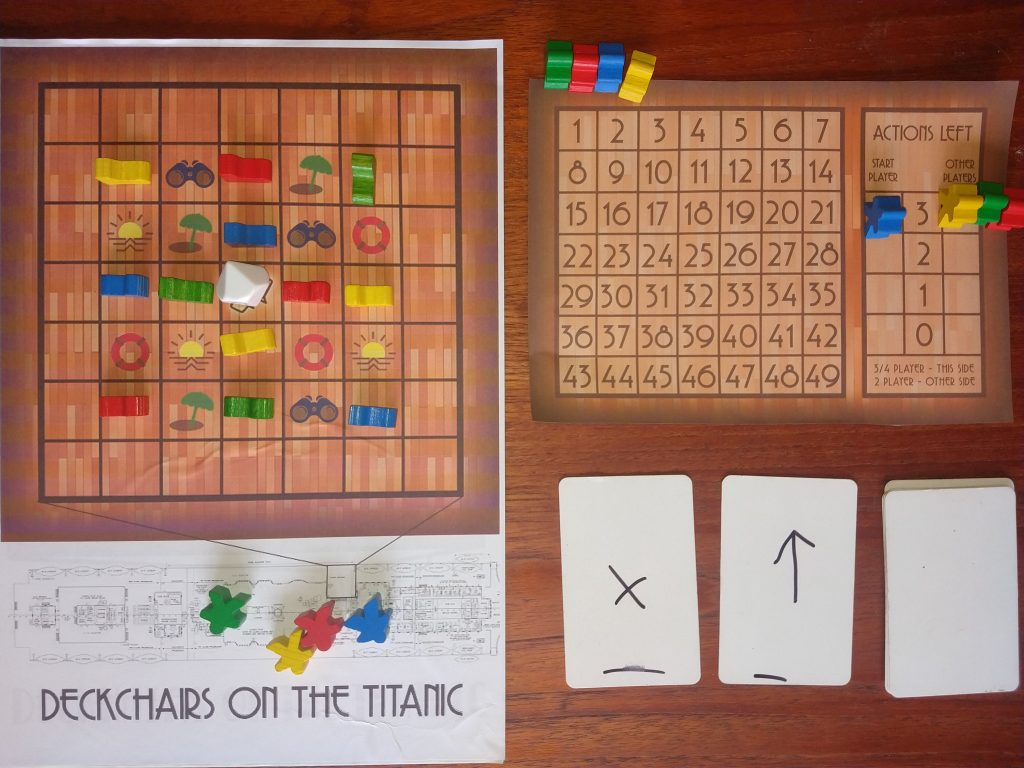 'Deckchairs on the Titanic' is a fast-paced, abstract themed board game for 2-4 players in which deckchair attendants compete to position their deckchairs in the best spots on the first-class promenade, while the ship tilts maddeningly from side-to-side and a chunk of ice is pushed around the deck, constantly displacing them.
Our launch earlier this month coincided with the 108 th anniversary of the sinking of the Titanic, on 15th April 1912. The full board game will be released later in the year via Kickstarter.
Silver Birch Games is a Birmingham-based company comprising Tom Holness (Head of Games), Miles Hesketh (Marketing Director), Rebecca Johnson (Copywriter) and Dan Kent (Game Designer and Software Developer). The team met during our time at University of Birmingham, enjoyed many an evening playing classic board games, and continued to work together in the creative industries for several years afterwards. After a period of separation, we have collaborated again to combine our creative energy into an eclectic series of carefully conceived games.
'Deckchairs on the Titanic' features the following:
1) Direct player interaction
2) Game board tested with A.I. for fairness
3) Colour-blind friendly palettes
Tom said, "The phrase 're-arranging deckchairs on the Titanic' that inspired the game means doing a futile action in the face of disaster. There have been plenty of books, films and games about the Titanic, but they all tell stories of trying to escape the sinking ship. The idea of a Titanic game where players carry on as normal, believing the ship to be unsinkable, appealed to my dark sense of humour and enjoyment of games with unusual themes.
"As I developed the game I created mechanics to fit the theme, and built a fast-paced, medium-weight game to appeal to players of abstract and non-abstract games alike. I've had really positive feedback in play-testing and demo sessions over the past year, and look forward to getting the game onto Kickstarter and into people's homes!"
Check out a giant version of the game at the following events: UK Games Expo (August), Tabletop Gaming Live (September), Tabletop Scotland (October)!